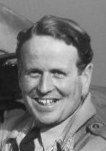 John Cunningham decided to become a pilot and aeronautical engineer and at age 18 joined 604 squadron at Hendon. He became a renowned pilot in both peace and war - the first to fly a jet airliner, and the first to perform radar interceptions at night.
John Cunningham's "Cat's Eyes" were the Airborne Interception (AI) radar developed by Bowen with which he, with Sqn/Ldr Brown at the Sopley Ground Control Interception (GCI) radar, developed the control techniques for the night interception of attacking aircraft. In May 1941 he shot down a German Heinkel in sight of King George VI who visited the station at Sopley near Christchurch. The press gave him the nickname "Cat's Eyes Cunningham - the pilot who can see in the dark". At the time the Airborne Interception radar was secret, so the Ministry of Information explained that Cunningham ate a lot of carrots.
Airborne Interception radar enabled the RAF to win the night battle that followed our success in the Battle of Britain. This prevented the Germans from achieving the air superiority they needed to mount an invasion of this country.
Born 27 July 1917, died 21 July 2002.